Surprise Spring Seasonal Affective Disorder
It's true: Manqué is live. We're slow going — which is very difficult for me!! — but we are up and at 'em with real stories up and new ones planned.
This and an unexpected wave of what I have termed Surprise Spring Seasonal Affective Disorder (SSSAD) have kept me puttering around our home, staring longingly out of windows and wishing that the sun was real as I scroll aimlessly through Pinterest and forget to respond to texts instead of stopping in here to say "hello!" (No, but really. If you're not in New England, you may not know but, in April alone it rained something like 19 out of 30 days according to some weather website article that I read in the midst of feeling forsaken by the seasons.)
I've been compulsively collecting plants for what feels like three weeks, taking control of the outside of our home the best I can. I didn't know it until recently, growing up in apartments, but I'd describe my ideal yard aesthetic as "potentially abandoned but certainly well-loved cottage stumbled upon in the woods next to an overgrown grassy knoll, definitely a witch's home in a previous life" and have done my best to cultivate that vibe in spite of the sun's absence. As in, we put our vegetable garden in the front yard and I'm entirely thrilled. (That is not my vegetable garden. That is an old flower bed that was previously covered in red mulch.)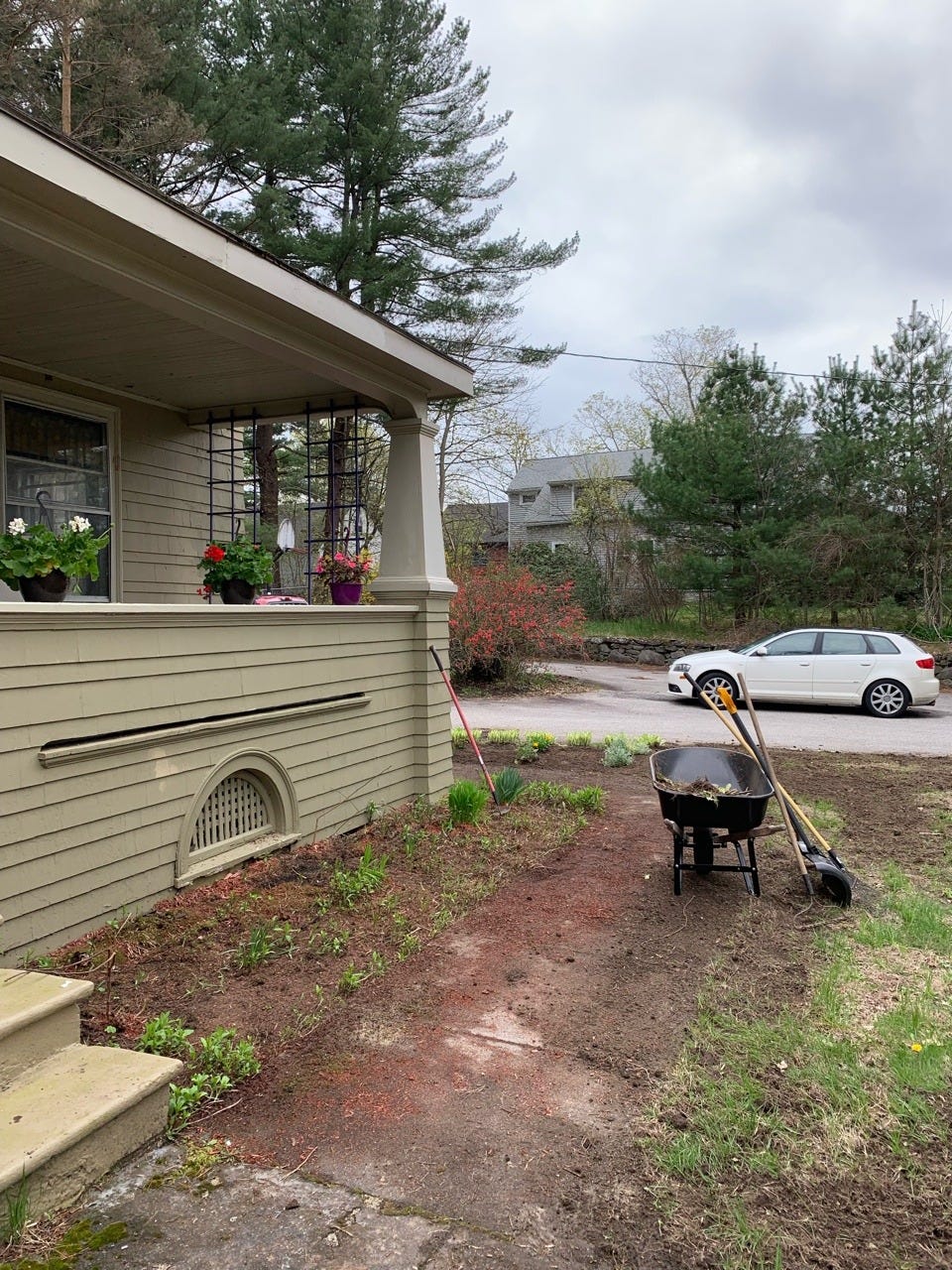 At the risk of sounding too diary-like, I've been thinking a lot lately about how life changes at a rapid pace even when it feels like you're standing still. A year ago, yesterday, Nathan and I graduated with our master's degrees. A few days later, we adopted Tilly. A few days earlier, he became an uncle for the first time. And a few weeks after that, we decided to break our lease in New York with less than two weeks notice, pack up all of our stuff (and our very smol pup) and head back to Massachusetts. A year later and I'm planning a vegetable garden? W h a t?
I'm going to stop myself now, as I veer on sounding like a prolonged Instagram caption. It's spring. It's spring!
Oh, re: Olive Garden. We are going there tonight. When you're here, you're here!